beasts challenge on bigbang
Okay so I talked to much beautys (BEAST's Fanclub is named B2UTY) and several times the people talked that I should write an entry about this. So although my blog is otherwise written in german I'll put this post up in english for the foreign BEAST fans. Lately the boys released one of their two new songs called YeY. The 2nd song is Gotta Go To Work and is so different and very much BEAST-style but YeY… It seems like a challenge to BIGBANG although they're promoting at the same time. And believe me – I like BEAST, but I'd consider me as VIP (VIPs are the fans of BIGBANG) before you can call me a beauty; so please see this as words from an objective person in this case.
I'll tell you why I think so and much beautys agree with me in most of the points. Primarily I want to show you several reasons why I think that they're challenging BIGBANG instead of just trying to be like them.
First of all, they have no reason to copy BIGBANG. Already since 2011 they're named as one of the two really dangerous competitors BIGBANG has on their side. Almost every interviewer of the group states sooner or later that BEAST are besides 2PM the only idols which can take their step on BIGBANGs success and which have the power to kick them out of the idol's throne. Not least because the loyalty of beautys is as hardcore as VIPs are.
There are several interviews in which BIGBANG deny that they see in BEAST rivals.
Hyunseung – who almost became a member of BIGBANG back in 2006 before they debuted – admittet around 2009 that he's jealous of BIGBANG. Fans and netizens took this opportunity to get a little shitstorm started. It's really a shame how the idol world works but it's like that for ages already so… yeah…
BIGBANG and Hyunseung have no, I underline, no contact with each other. After BEAST debutet, GD wrote a short message about congratulating and then there's nothing. For about 6 f*cking years and BAM Hyunseung poses with BIGBANG for a picture.
While BEAST get asked so much about if they compare themselves with BIGBANG on the other hand no one asks BIGBANGs members about that. Pretty strange if you ask me because hell it's idols world – the interviewers and netizens are always searching for stuff to make scandals out of it. But there's always only BIGBANG which gets one scandal message after another and BEAST are pretty serious about their business, about their work, about their social networking, about their everything. You never got just one line about a scandal according to this guys.
So again. What reason do they have to be like BIGBANG? Every single thing about YeY that reminds of BIGBANG is about stuff that got bad headlines. Starting with bad hair and ending with several music videos who didn't got that much attention like other singles of BIGBANG. Here we go, I'll tell you what I mean.
Starting with this scene which reminds of BIGBANGs japanese single Beautiful Hangover which was a little flop in comparison to other japanese Singles of the group if you look at Koe Wo Kikasete or Gara Gara Go. But okay, this one's maye just too much interpretation.
This. Tae Yang got so much bad comments on his hair in one of BIGBANGs most recent m/vs Sober. And that's not the only imitation about Tae Yang you can find in this video. It should be told on this point that unless like so much fans believe that idols are trendsetters in ever point it's more like that they get a nonstop shitstorm if they wear strange hair. Although they're doing it to get headlines, to gain attention for the band. If you ask me it's a wrong way and it seems as BEAST approves because they've never done any weird hairstuff in such an high level and gain as much attention as BIGBANG does.
Additional the first rap verse of Junhyung has so much GD vibe in it and he haven't done that ever before.
Side noted it should be said that the whole video is about a hangover, about girls, girls, girls and how to get wasted. BIGBANG got wasted with drugs in Sober, they handled the topic of drugs, alcohol and getting wasted in Beautiful Hangover and showed themselves with many girls in High High and an amount of other videos. Almost no idol group is doing that in such a western way and BEAST shows it off in this vid too – but with their usual BEAST humor of course which doesn't fit this serious hangover scene in BIGBANGs way.
Doojoon keeps sticking the most of the time in the vid on his smartphone like he does on so much backstage videos that his members are already making fun of him many times. Plus he's using his creepydorky smile for like ages. Also Kikwang is not so serious in this video like he's doing in every other video. Either he's being cute or totally serious about just everything. In short they're laughing, having fun and having a good time shooting that video.
Before the bridge comes up they're suddenly posing in a BIGBANGlike formation while approaching the middle of the shoot. Twice. That's very untypical for BEAST.
Next comes the first rather serious scene with Dongwoon who's struggling with the alcohol he drank. But not for long – because then Doojoon appears with 2 girls and takes the seriousness about this scene again.
Oh pitiful iphone… :/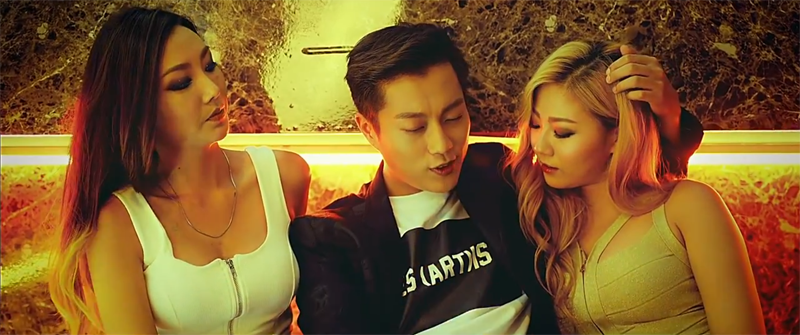 I wrote about girls. Girls everywhere. And suddenly there's this scene of Doojoon with girls like GD always touches them lightly in such an explicit meaning. In every other video with girls BEAST are just so cute, so sensitive and so loveable with girls. But this is just some… yeah, I think you know what I mean right? Just think about BEASTs 12:30 where Doojoon holds the hand of the girl or how he's acting with the girl in GN.A's I'll Get Lost, You Go Your Way. If you think about BIGBANG there's accurate THIS way like in the picture how GD's always going with girls. If it's in Tae Yangs I Need A Girl or in Beautiful Hangover from BIGBANG. You can see it in GD's solo That XX and in several other videos.
It's. Always. Like. This.
Playboylike. Yeah, that's the word I was looking for.
And next up is Kikwangs slap in the face for Tae Yang.
You all know Tae Yangs way of dancing, right? He's said to be one of the beeeeeestestestest dancers in kpop. But… why? I'm sincere and please keep in your mind – I'm a VIP like I said, but I'm always objective. I don't want to have a shitstorm because of this and the topic who's a good dancer is the most controversial one between kpop fans. I Know. But there are two type of dancers in this world. The ones which are born with a serious talent that every single move seems godlike and the ones which have to learn how to dance and are pretty good at it but won't ever own that territory like the 1st ones are doing.
Born with that talent are if you ask me for example G-Dragon from BIGBANG, U-Kwon from Block.B, N, Leo and Ravi from VIXX, Minzy from 2ne1, Zelo from B.A.P, Kikwang and Junhyung from BEAST, Niel from Teen Top, HyunA from 4minute and several more. You almost have to have someone like this in your group to gain attention from the media if you think about the fact that there are over 200 kpop idol groups and only a few ones who gain worldwide attention for what they're doing.
Okay, so we have the dancers with natural talent. And then there's Tae Yang. He's good, yeah. But there are so much better dancers than him. Because every of his actions is studied and at times you can see that it doesn't come flowing from his body. Sometimes he's stiff and not floating smoothly like he should because he's always trying to be sexy so hard. And sometimes I wonder if he trys to fix that with showing his abs. Ever. F*cking. Time.
And babaaammm, Kikwang's doing it like Tae Yang does it. I must admit I loled so hard on this one.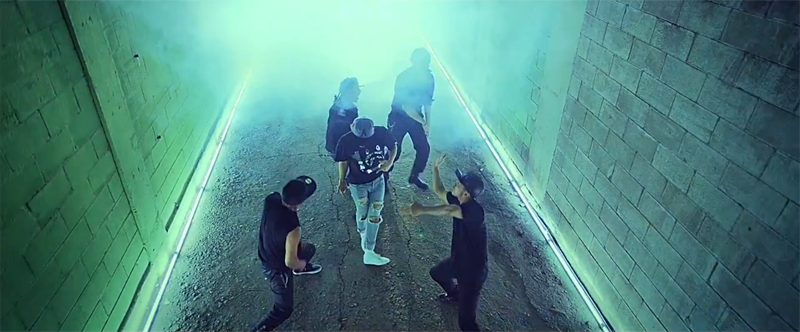 Some guys dancing with him in a solo scene. Even if it's a m/v of the whole group and no solo thing. Tae Yang like.
The way he moves. Tae Yang like.
His clothing. Simple but trying a little too hard to say "Nah, I'm not that sexy like you think I am." And he's wearing a cap while dancing. Very Tae Yang like.
The jump. It's so irrational just like the other dance steps that are almost never fitting in the concept and the pulse of the song. Verrrrry, very Tae Yang like.
And then he's ripping his shirt of. Do I have to say more…?
So. Much. Plants. In so much scenes. Just like in BIGBANGs Sober but with the difference that this plants aren't weed.
This dancing footsteep they're using several times. BIGBANGs style in several videos. BEAST always have some complex dance moves. Not as complex as Teen Top with so much jumping or like VIXX but complex. More complex than this anyway. And the hand wave is so much TOP style.
Daesung's sitting on the roof of a car or has some scenes with cars on several times. While he's singing in a such an angelic way that you just ask yourself… why with a car?
The approaching if they're like kings. Okay, many idols are doing that in many videos these days. Infinite for example. But it's also BIGBANGs style since ages.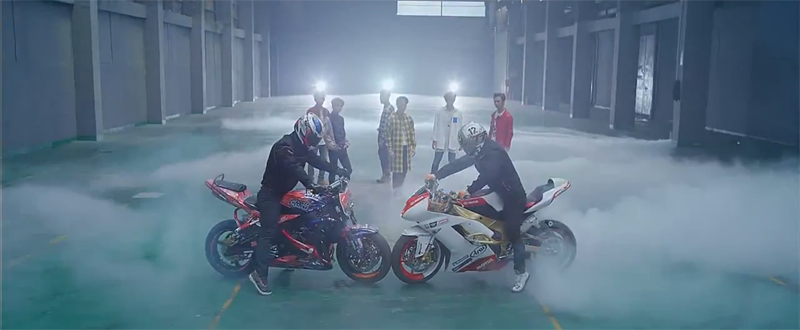 Honestly I have no idea about the meaning of the thrifting cars and the motocross scenes in the end but it's also BIGBANGs style because they often have some unlogical stuff in their videos tight before the song's over.
So that's it. I gave you several arguments why I think BEAST are challenging BIGBANG. Yeah. Challenging. They have no reason to copy, they're kings like BIGBANG. Plus if they want to copy then why of all things the parts BIGBANG got bashed for? Additional there's always comparison of fans between GD and Doojoon, between Tae Yang and Kikwang and between Yoseob and Daesung. Why are exactly this 3 guys copying their counterparts and then also the stuff which are bashed by fans of them?
It's like BEAST is saying stop to compare us, we're not them.
Another good indication therefore is that they released Gotta Go To Work right after which is BEASTs original style.
That for now. I'm out, bye bye~